Books, script and libraries in early medieval Europe: Rosamond McKitterick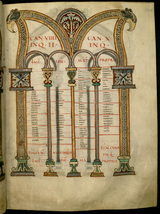 Books, script and libraries in early medieval Europe: emulation, innovation and the transmission of knowledge. This course will explore the major developments in book production from late antiquity to the Carolingian period in their cultural and historical context.  One theme will be the question of continuities in book production from the Roman period. Another will be the new developments in script, codicology and decoration. A third theme is the creation of new types of books to accommodate  changes in  education and intellectual culture and the consolidation of Christianity in Western Europe. The fourth major topic will be the preservation and transmission of knowledge and the creation of libraries from antiquity and the early Christian era to the Carolingian period, with special reference to the contribution Lyon and its scholars (Leidrad, Florus Agobard) made to the phenomenon known as the Carolingian Renaissance.
The classes will be conducted with the aid of the original early medieval manuscripts in the exceptionally important collections of Lyon itself. This study will also be supported by digital images and facsimiles to illustrate each class. There will be two full afternoon sessions in the Lyon Public Library (Bibliothèque municipale de Lyon). The Lyon manuscripts provide a rare opportunity to explore the development of knowledge and cultural and intellectual interests in early medieval Lyon, not least the autograph manuscripts of the scholars of Carolingian Lyon.
Rosamond McKitterick is Professor of Medieval History in the University of Cambridge, Fellow and Vice-Master of Sidney Sussex College, and has published on literacy, manuscript transmission, perceptions of the past, historical writing and political culture in the early Middle Ages. Her current interests are the migration of ideas and transmission of knowledge in the early Middle Ages, the implications and impact of the historical and legal texts produced during the 6th and 7th centuries in Rome and Rome's transformation into a Christian city.  She received the degrees of M.A., Ph.D., and Litt.D. from the University of Cambridge and studied Palaeography in Munich. She has held the Chair in Medieval History in the University of Cambridge since 1999, after having been awarded a Personal Chair in 1997. She is a Fellow of the Royal Historical Society and of the Royal Society of Arts, Manufacturing and Commerce, a Korrespondierendes Mitglied of the Monumenta Germaniae Historica and of the Austrian Academy of Sciences, and Corresponding Fellow of the Medieval Academy of America. She has taught summer schools and master classes in Palaeography and Codicology in Amsterdam, Leiden, Glasgow, Rome, London and Cambridge. She was awarded the Dr A.H. Heineken International Prize for History by the Royal Dutch Academy in 2010.