Oriental bookbindings (course in French) - François Vinourd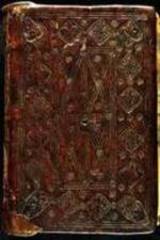 This course explores the rich diversity of Oriental bookbindings (Coptic, Ethiopian, Syria, Islamic, Byzantine, Armenian) through the techniques and the methods used. Bindings can be differentiated by fabrication techniques, the earliest going back to the Late Antiquity. Different types of bindings will be compared on a historical basis with analyses of their fabrication techniques and their wider influence. Attention will also be given to Islamic bindings which are particularly present in this geographical zone but whose production differs in several points from other oriental bindings.
It is important to be able to identify the binding of a given manuscript, for the choice of the binding is not random: rather it provides us with evidence of a cultural environment. Manuscripts are complex units. Their most exterior element – the binding – can have a close relationship not only with the contents of the text block, but also with certain cultural trends concerning textual traditions. The fact that a manuscript is protected by a Syriac, Byzantime or some other form of binding is far from insignificant. Its description provides precious information which can be of great use to the historian.
The course offers a classification of Oriental bindings intended to help in identifying the characteristics of each type in terms of materials, techniques and decoration. Abundantly illustrated, it also includes a presentation of current analytical tools, and explanations of description methods including practical sessions. The study of models of sewing methods  and headbands will help students understand fully the different stages of fabrication.
François Vinourd studied at the École du Louvre and at the Union Centrale des Arts Décoratifs. He heads the restoration department of the Centre de Conservation du livre in Arles since 1988. He has been on mission in various libraries in Greece, Romania, Bulgaria, Turkey, the Balkans, Syria, Lebanon and Egypt. In collaboration with Christian Förstel and Dominique Grosdidier, he is currently preparing a catalogue of the Byzantine bindings of the French National Library as well as a catalogue of the Syriac bindings in the collections of the Patriarchal Library of the Syro-Catholic Church of Charfet (Lebanon) with the librarian Youssef Dergham.